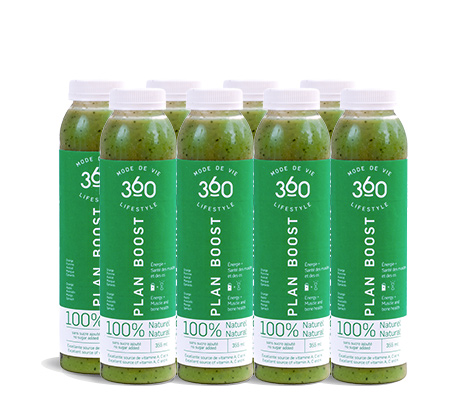 Kit: Boost
The Super B Plan
For a daily dose of energy 12 Plan Boost smoothies of 355ml to replace coffee or breakfast.
Lower energy at the end of the afternoon? Last-minute meeting? Rush morning? Boost Plan is "THE smoothie" to recharge your batteries. Get your vitality back quickly and easily thanks to its freshness and energizing power. Super moisturizing, Boost Plan is the perfect partner to your morning pre-workouts, as it offers you a good dose of energy in a blink of an eye. In addition, it contains the most nutritious ingredient in the world: avocado!
1, 2, 3, Go... You're on your way!
No added sugar.

Source of vitamin E, B1, B2, iron, niacin, phosphorus, calcium.

Good source of magnesium.

Excellent source of potassium, vitamins A, C, B6, K, folate, manganese.